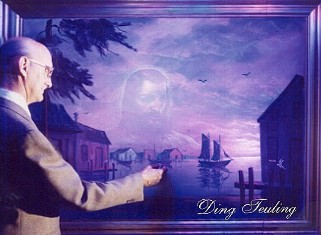 to Teuling Enterprises, Inc.
Ding Teuling, founder of Teuling Enterprises, was an amazing  pioneer of invisible black light chalk drawing ministry for nearly a century. As the leading manufacturer of invisible black light chalk, Ding Teuling developed a unique professional presentation style that was a refreshing experience for thousands of churches who enjoyed his ministry for over 70 years.
Ding also hosted and instructed chalk artist training workshops for thousands of students. His legacy has inspired a generation of Christian artists to dedicate their talents and gifts to helping others be drawn closer to the Lord.
The undisputed quality of Ding's invisible black light chalk is praised even by other manufacturers. This is because each stick of chalk is  still manufactured using the hand- crafted, proven methods of the truly respected leader of the art-form itself.
Click Here
to order the best invisible black light chalk available. Do yourself a favor and order a box today. It is well worth the investment.
Also, enjoy one of the finest Black-Light Chalk Art Galleries on the web. It explains techniques of the hidden picture and features actual artwork drawn live during Ding Teuling's evangelistic ministry.
The Teuling Evangelistic Ministry continues today. Ding's daughter, Cristie, manages the manufacture and distribution of the black light chalk. Ding's son, Dave, travels with his family and conducts meetings with the same beautiful, hand-crafted, dramatic experience that has been his father's legacy. Click Here to learn more.
Dave Teuling is one of the most creative and gifted talents in the chalk art ministry, What a blessing to know that your church can enjoy this wonderful service. Contact Dave Teuling today to see if he has dates available for your event.